I recently watched a webinar by Ed Dale and Michelle McPherson that reaffirmed one of the views I've had for a while about content creation. What it highlighted to me is the virtue in creating content that is truly valuable and not solely targeted towards ranking on Google for revenue purposes.
SEO and monetisation is great if the content is the sort of thing that people want to read.  But there are a lot of spam sites out there which add little value to the world (except for the owner) and just clog up search engine rankings.  As Ed and Michelle explain, the last few Google algorithm changes seem to have been targeted to redress this.
I've tried to avoid churning out fluffy or insubstantial content – not only because it doesn't deliver value to readers, but also because I would be too embarrassed to do so.  Now it seems there is another good reason to make content valuable – because it will be easier for it to rank well.
Here's the webinar if you are interested (which runs for 80 or so minutes):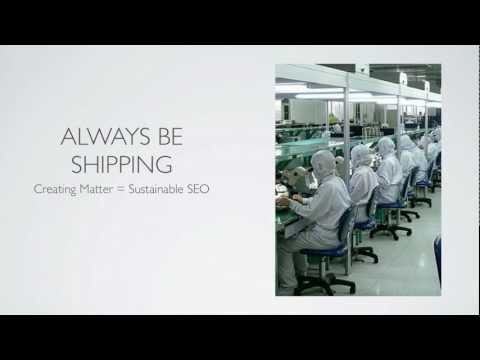 Google Guidance on Creating High Quality Websites
In the webinar Ed and Michelle refer to guidance that Google has released regarding what it will take into account when considering whether a website is high quality.  Here is the relevant post on the official Google blog.  Google poses a number of questions to indicate the mindset that it uses when considering the quality of a webpage or site:
Would you trust the information presented in this article?
Is this article written by an expert or enthusiast who knows the topic well, or is it more shallow in nature?
Does the site have duplicate, overlapping, or redundant articles on the same or similar topics with slightly different keyword variations?
Would you be comfortable giving your credit card information to this site?
Does this article have spelling, stylistic, or factual errors?
Are the topics driven by genuine interests of readers of the site, or does the site generate content by attempting to guess what might rank well in search engines?
Does the article provide original content or information, original reporting, original research, or original analysis?
Does the page provide substantial value when compared to other pages in search results?
How much quality control is done on content?
Does the article describe both sides of a story?
Is the site a recognized authority on its topic?
Is the content mass-produced by or outsourced to a large number of creators, or spread across a large network of sites, so that individual pages or sites don't get as much attention or care?
Was the article edited well, or does it appear sloppy or hastily produced?
For a health related query, would you trust information from this site?
Would you recognize this site as an authoritative source when mentioned by name?
Does this article provide a complete or comprehensive description of the topic?
Does this article contain insightful analysis or interesting information that is beyond obvious?
Is this the sort of page you'd want to bookmark, share with a friend, or recommend?
Does this article have an excessive amount of ads that distract from or interfere with the main content?
Would you expect to see this article in a printed magazine, encyclopedia or book?
Are the articles short, unsubstantial, or otherwise lacking in helpful specifics?
Are the pages produced with great care and attention to detail vs. less attention to detail?
Would users complain when they see pages from this site?
My Rule of Thumb
The rule of thumb that I try to apply is to only publish content when it is worth bookmarking or sharing, and is something that I am really happy with.
I think this approach not only delivers value to readers, but also stays on the right side of the Google mindset.  This is a good idea – as the world's most popular search engine by a long way, Google sets the rules.  Better to employ a strategy which means I am happy with the content I produce, and also means that content is less likely to be slapped down by future algorithm changes.
For anyone who has been hit by the Google Panda algorithm change or wants to start improving quality in Google's eyes, check out this survival guide.
© Tom McEwin
AffiliatePlayground.net